We work in an industry where our core business is connected to and sourced from nature. 
For that reason alone, our conscious could not allow us to operate without considering our environmental impact. It would be in direct conflict with why we do what we do… which is our adoration for the natural world.
Unfortunately the Floristry industry, unbeknown to most, isn't as sustainable as we'd like it to be.
There are very high volumes of single-use plastics and green waste that are not disposed of thoughtfully, Imported flowers and their associated carbon footprint factor heavily in floristry and the rise in popularity of preserved flowers has introduced additional chemical usage and exposure to the industry.
We are a Carbon Neutral company, tracking and offsetting our emissions to ensure we are always accountable and aware. 
All our staff are extremely passionate about the environment and play an integral part in our ongoing process of education and implementation in the area of sustainability.
We are also intensely proud that all our eco efforts extend to our school, where we are teaching sustainable curriculum to the next generation of our industry.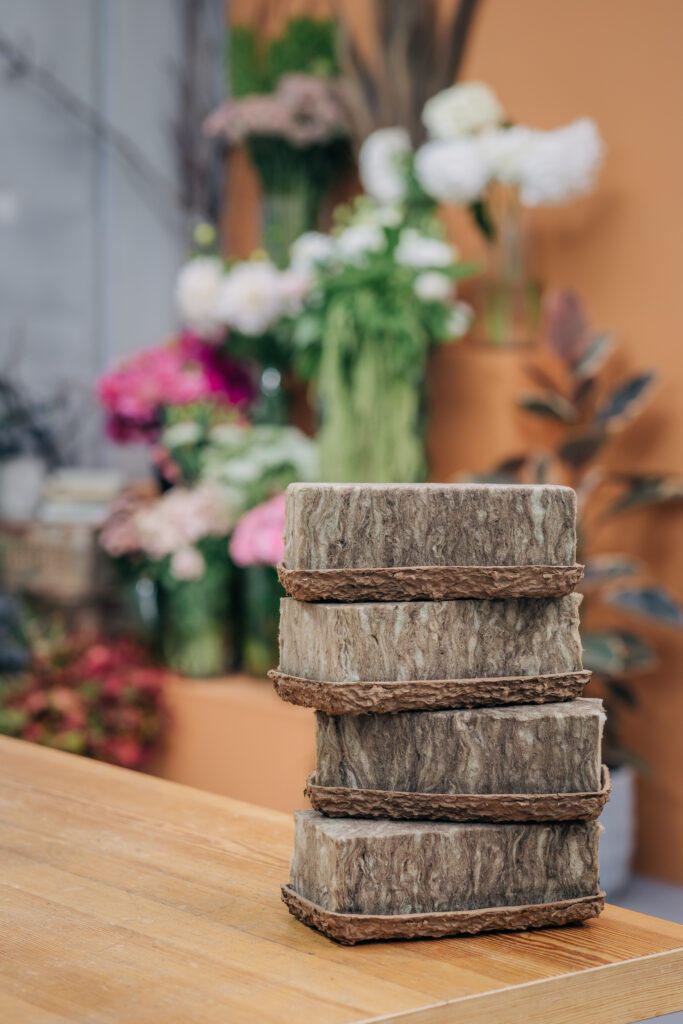 MINIMISING SINGLE USE PLASTICS
There has been an industry specific product popular for decades called Floral Foam. As more research is conducted we are understanding more about its harmful impacts to the environment not only as a single-use plastic, but as a micro-plastic due to the unfortunate ignorance surrounding its use and disposal. Unfortunately floral foam can often end up in green waste, mistaken for a biodegradable product, it also ends up entering waterways as a microplastic when cleaning up debris. 
We have eradicated the use of Floral Foam (replacement option pictured), all our packaging and mechanics are recycled/ recyclable, have the ability to be re-used or are biodegradable.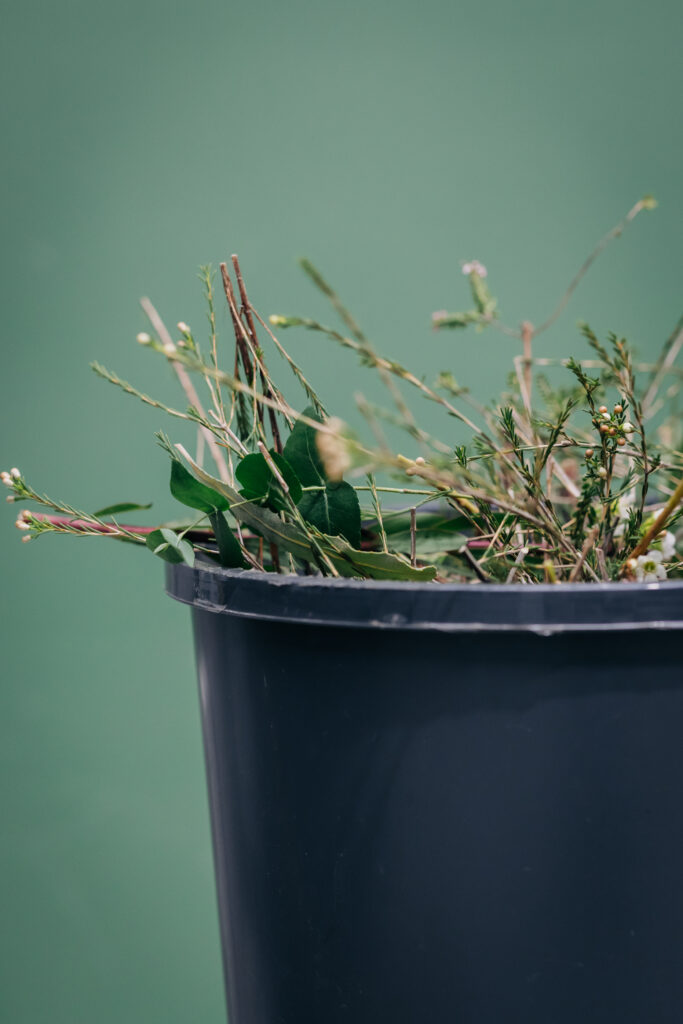 EXTENSIVE WASTE MANAGEMENT
A quick visit to our studio will quickly show you the lengths we go to to minimise our waste. We divide our waste into 8 categories, these include: 
Organics (which is sent to a specific facility to be converted to compost),

Mixed recycling, 

Soft plastics, 

Plastic flower sleeves (separated for specific recycling initiative), 

Landfill, 

Cardboard (for specific recycling) 

Rubber bands (to be donated for re-use)  and; 

E-waste.
We're currently diverting 90% of our waste from landfill. In the last year we've successfully diverted the following from landfill:
The equivalent of 18,690 plastic bags via floral foam alternatives

39kgs of cardboard, sent to specific recycling centres

23,595L of green waste, turned into compost via Sacyr
We estimate we'll divert 5,215 floral plastic sleeves next year via an industry specific recycling initiative. One of Melbourne's main growers/ wholesalers are allowing florists to drop off their used floral sleeves to be repurposed into buckets that are used widely within the industry.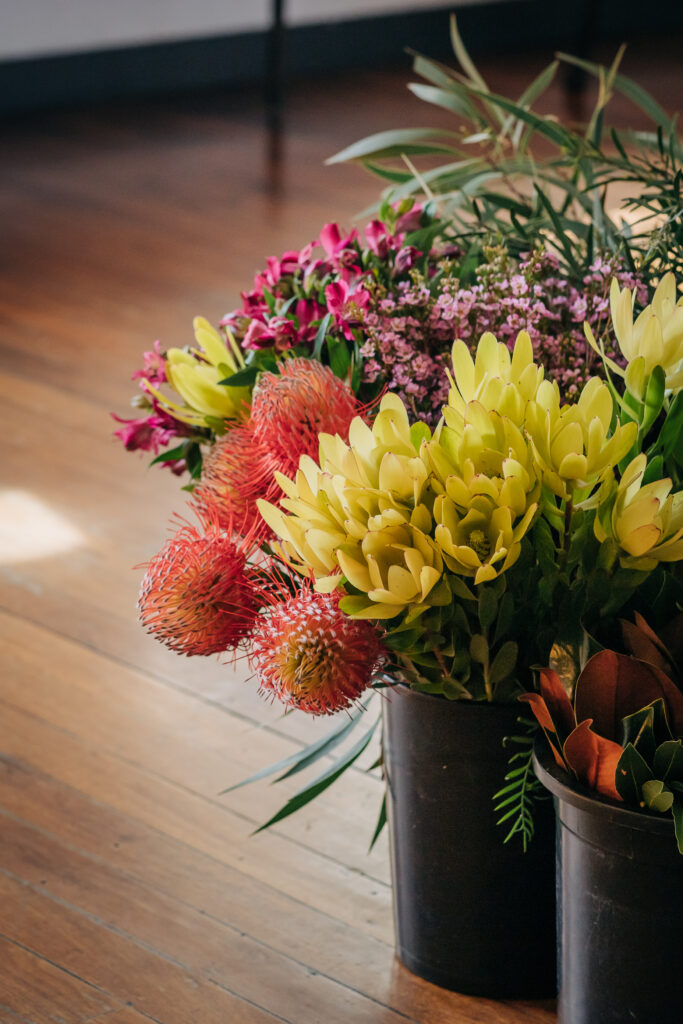 PREFERENCE SEASONAL, LOCALLY GROWN PRODUCE 
Imported flowers factor heavily in the industry, as consumers want popular flowers to have availability all year round. The travel involved in these imports is only one aspect that contributes to why we try to avoid them – there are also ethical elements at play as well the potential exposure to additional chemicals due to overseas growing methods and the requirement for them to be heavily sprayed at the point of reaching Australian shores. 
Wherever possible we work within the seasons and choose local. This applies to our event floristry, by recommending seasonal options to our customers, and also the school where we ensure our students learn seasonal availability/ varied botanical knowledge.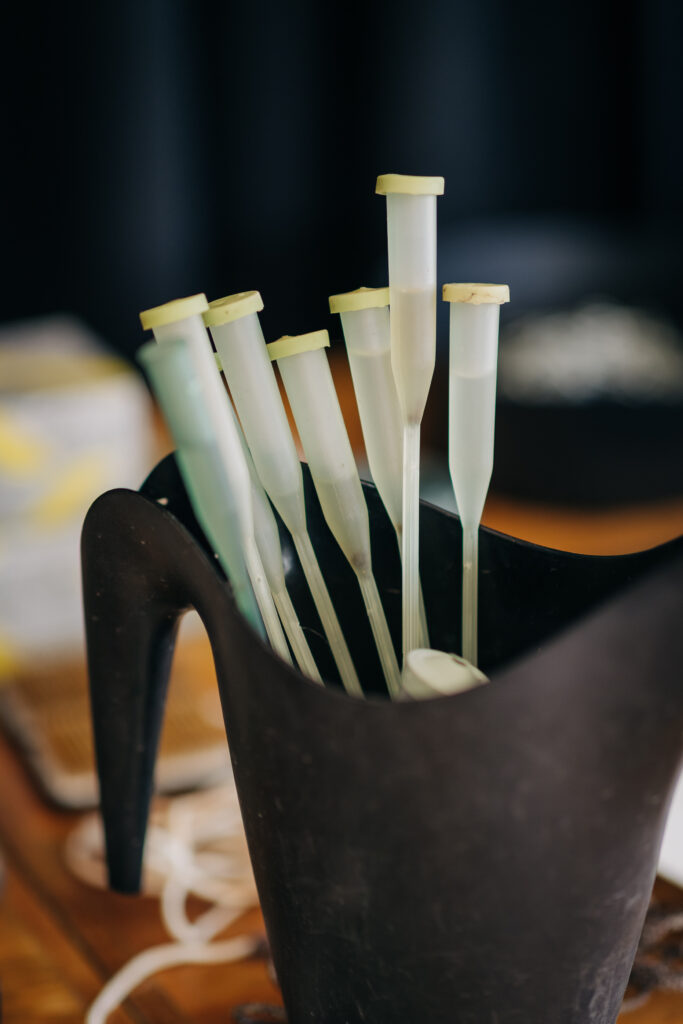 REPURPOSING/ REUSING 
We re-use wherever we can. We can donate leftover florals from events to non-profits upon customer request. We often dry flowers in the studio leftover from the school demonstration arrangements. 
We re-use mechanics for events, vases, vessels, vials (pictured) and water wherever possible. We repurpose jars for arrangements and deliveries and we donate rubber bands to farmers markets.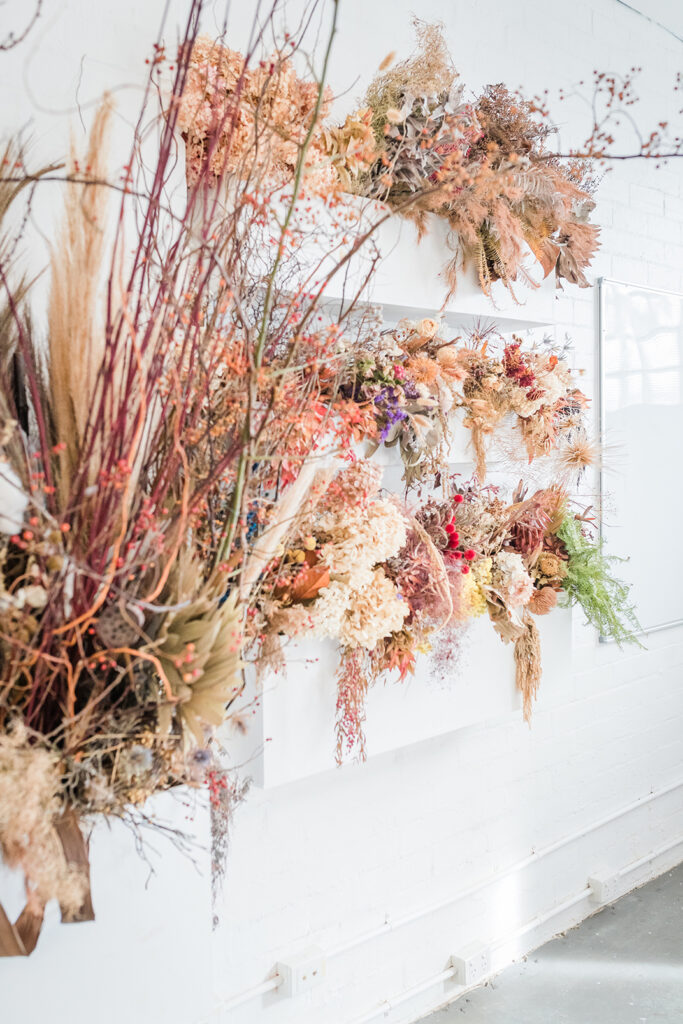 MINIMISING THE USE OF CHEMICALS
The use of chemicals in our industry used to be very common/ everyday practice. When many of us started in the industry glitter sprays were used on flowers, chemical agents were added to water to enhance the longevity of arrangements and things like chemically dyed flowers were on trend.  
Luckily the industry has slowly changed as we've become more aware of the potential effects of every day exposure to chemicals – but also trends have changed more towards enjoying the natural beauty of florals. 
There's still some exposure to chemicals in the industry that we try to avoid where possible, the main one being imported flowers. We also utilise non-toxic paints around the studio, we do not use preserved flowers – instead opting to use only naturally dried florals (most we dry ourselves, as pictured) and we also only use all eco cleaning products (no bleach in sight).
EDUCATION
We are open about being eco conscious, to our clients, within the industry and in the school. Our social media marketing regularly tackles sustainability topics.
It is one of our main goals to try and create ripples of change within the industry, with Thrive Flower School being the main catalyst.
If you have any questions regarding our sustainable efforts in the industry, please contact us, we'd love to hear from you!